AFLATEEN – Social and Financial Education for Engagement, Entrepreneurship and Employment
The general objective of the project is to empower young people and their parents through civil and social competences' development to become agents of change for themselves and their communities. Our aim is to offer a solution for the lack of financial and entrepreneurship education in Hungary, Serbia and Slovakia, which is identified as one of the roots of high rates of unemployment among young people in the region.
The specific objective of our project is to create and adapt a curriculum for developing the social and financial competences of young people aged 15-18, to be used by youth workers in their everyday work, and a training material for trainers to train youth workers to use this curriculum, as the correct approach is essential in this field of competence development and cannot be acquired by downloading the curriculum and start using it.
The main focus of the materials will be on empowering young people by developing their basic financial skills which are missing from the official education system as well as from the area of youth work in the respective countries.
Based on positive experience with similar projects implemented with the same partners for professionals working with younger age groups (kindergarten teachers (AFLATOT) and primary school teachers (AFLATOUN)), we believe that it is essential that the youth workers working with the 15-18 age group have materials specially designed for the needs of the youngsters, as very similar knowledge has to be presented very differently to different audience. This programme also complements the earlier programme developed in the Netherlands (Aflateen programme) for social and financial education of children globally that pioneered the combination of child rights based approach with active participation in social and financial endeavours of young people in and outside school.
Following the development of the materials we will train 5 trainers per country who will be the ambassadors of the new approach, as well as the trainers in the following international training of youth workers. We will involve 20 youth workers from 10 NGOs/youth organizations in each country in the pilot training. Involving them in pursuing one common cause will also naturally create multiple networking opportunities for them.
The trainers will reach out to more than 600 young people in the three countries. During this phase of the project they will receive on-line mentoring and support. After the pilot training and field testing, we plan to spread the experiences of the program to the wider audience of stakeholders on the national level through the round table discussions organized in each country and on the international level on the final conference where participants from all the countries will have the opportunity to present the results of the project. We will also use the Aflatoun network in more than 100 countries to share the created knowledge through newsletters, online platforms, and Facebook. Through digital channels, youth workers and children will be able to connect to a network of peers from 106 countries and exchange knowledge, skills and ideas. They will also be linked to Aflateen Digital platform where young people (teenagers) can learn more about activism and joint actions. This will also enrich their experience, broaden their perspectives and help them understand the benefits of diversity.
All the cooperating project partners have invaluable experience enriching the project team. CYSO has extensive experience in the development of the training programmes for in-service training of youth workers and teachers and their professional development. Csoport-téka Egyesület has vast experience in the development of the activities that engage children and young people in the development of their social and financial competencies for the inclusion into the labour market and society.
Skola dokoran – Wide Open School n. o. has a widely recognised expertise and experience in inclusion of Roma youth and children in the education, inclusion of parents (especially Roma parents) and their inputs will assist trainers, teachers and youth workers in the development of the approaches to Roma children and youth and their parents in all three countries.
At the times of increased need for financial literacy and increased entrepreneurial skills of all citizens, our studies have shown that neither children, nor adults (both teachers and parents) have the required skills. Most existing initiatives for assisting educational institutions and civil society to help young people gain financial and entrepreneurial skills needed for better employability and inclusion into the labour market and society are concentrating narrowly on project and business plan development and project management, without giving the broader skills for saving, investing, or any other financial aspect. Also, there is a lack of active parental involvement in the development of social and financial skills of their children. Our programme will combine the social responsibility and financial competencies, apply innovative and inter-disciplinary approach, and include open and digital learning tools to help youth workers, young people, and parents.
It will pay special attention to the children from disadvantaged backgrounds, those with special needs, migrants and Roma, while tackling discrimination, racism, segregation, bullying, violence and stereotypes to create the basis for achieving promotion of active citizenship in learning. This makes the proposed action unique in its effort to promote and implement integrative learning model geared towards supporting individual entrepreneurial initiatives created with increased awareness of the social impact and the difference it makes for the community and society.
Led by experienced civil society education professionals, the project represents an innovative attempt of promoting and mainstreaming flexible models of learning, enhances their synergy and complementarities with other education systems, labour market and society. The curriculum will have five core elements: (1) Personal Understanding and Exploration, (2) Rights and Responsibilities, (3) Savings and Spending, (4) Planning and Budgeting, and (5) Social and Financial Enterprise.
The project also tackles relevant aims of the European policies: youth activism, active participation in social and financial decision-making processes, upholding democratic values and working towards higher youth employability through independent endeavours.

---
The general objective of the project is to engage the 'hard to reach' young children and families from migrant and ethnic minority backgrounds in quality inclusive non-formal community-based Early Childhood Education and Care (ECEC) initiatives in order to facilitate a smooth transition into primary education and improving their educational experience and performance in the long term.
The specific objective of this project is to scale up and embed in policy, the TOY for Inclusion approach to combating segregation and increase access of 'harder to reach' young children with migrant and ethnic minority backgrounds to quality and inclusive ECEC.
The TOY for Inclusion approach involves broad representation from the community (parents, educators, health workers, local authorities) in so-called Local Action Teams. The approach is proving successful in creating local acceptance, ownership, responsibility, and generating energy and willingness to plan together for non-formal ECEC services for ALL children and their families in the community.
The families, who come to ECEC Play Hubs, centres for non-formal ECEC managed by Local Action Teams, do not only spend time with their children but also meet new families from different backgrounds. The new relationships and bonds forged in the ECEC Play Hubs are extending to other arenas. The proven success of the ECEC Play Hubs in some countries is attracting sponsors from the private sector and support from local authorities.
TOY to Share: Play to Care will develop the proven good practices from TOY for Inclusion on a wider scale to include migrant and marginalized children in general and not just Roma. The will also be implemented in additional communities in the 7 countries where TOY for Inclusion is already happening, as well as in one new country, EU candidate country Turkey. Priority will be given to the provision of training and mentoring to both practitioners from education, health social care, and community development as well as to local authorities to support them to deal with diversity and to promote inclusion. Experienced practitioners and local policy makers in the TOY for Inclusion approach will act as role models for those who are new to the approach.
The project focuses on the very young children between 0 and 6 years old, who are not yet in the age of compulsory schooling or in the first years of primary school. It proposes to expand, readapt, transfer and upscale the already piloted TOY for Inclusion approach, which developed a participatory community-based methodology to design and implement non formal ECEC services focused on social inclusion within a 'progressive universalism approach', with specific attention to the inclusion of Roma children and families. 'TOY to Share, Play to care' will extend the reach of the TOY for Inclusion approach to include migrant, minority and 'harder to reach' children more in general by creating new non formal ECEC initiatives in 8 EU countries as well as by building the capacities of local authorities to embed this approach at systemic and policy level.
Our methodology builds on international existing and proven principles, guidelines and tools developed by Diversity in Early Childhood Education and Training (DECET) (http://decet.org/publications/), International Step by Step Association (ISSA) (http://www.issa.nl/content/issa-quality-principles) and the former TOY project (www.toyproject.net).
The methodology we intend to adopt for the upscaling process consists of the following complementing components:
Assessment of local needs and desires to design local responses in the form of non-formal community-based ECEC initiatives (Local Action Teams);
Capacity building of professionals (peer-training and mentoring trajectory for partner organisations and Local Action Teams);
Participatory design, implementation, monitoring and evaluation of non-formal community-based ECEC initiatives;
Thorough systematic impact evaluation of the implemented ECEC initiatives;
Capacity building of policy makers and impact at systemic and policy level (training of staff of local authorities for the embedding of the TOY for Inclusion approach in local policy and practice);
Knowledge sharing and dissemination among local, national and international stakeholders and policy makers (campaign and general dissemination);
The project involves organisations that are already implementing the TOY for Inclusion approach and organisations and countries who are new to this. Through the project, the first group will ensure continuity, scaling-up and sustainability to the existing ECEC initiatives. Each country will develop contextualized approaches based on local needs, within a common framework: some countries will create new ECEC initiatives in one new locality; others will invest in creating a network of local organizations that will implement approaches and activities focused on social inclusion and inclusive ECEC.
The second group – new partners – will receive training and support on how to invest in social inclusion from the more experienced partners and will implement non-formal ECEC initiatives in one locality in their country.
In total, 14 ECEC initiatives will be implemented in 7 EU countries.
---

Project: Social and Financial Education for Engagement, Entrepreneurship and Employment
Partners:
Pomoc deci, Belgrade, Serbia (www.pomocdeci.org)
Csoport-teka, Budaors, Hungary (www.csoportteka.com)
Skoladokoran – WideOpenSchool n. o. Ziar nad Hronom, Slovak Republic
The main aim of the project is to support the partnership initiative aimed at promoting innovation in
the education of school children, their parents and teachers and the exchange of experiences among
participating partners.
The general objective of the project is to empower children and their parents through civil and social
competences' development to become agents of change for themselves and their communities.
The specific objective is to develop the program for social and financial education for target groups,
test it and prepare its implementation on large scale, to develop competences of school children,
especially their social and entrepreneurial ones. Reaching this target will enable participating
countries to improve the school education also on systemic level, spread this program and work
systematically on competences within the chosen target groups. The project will raise also
competences of teachers working with the target group and parents because parents are the main
characters in children´s lives and they can influence their attitudes and practises.
Concrete expected results: Improved elementary school education (for children up to 15 years of age) on the systemic level through spreading this program across all the involved countries and working systematically on building both social and financial competences within the chosen target groups;
Raised competences of involved teachers in working with elementary school children from six to 15 years of age, especially those from the marginalized ethnic minority (including Roma) groups and communities;
Involved parents in the direct work with target groups in school facilities and at home
Empowered children and parents for the role of agents of change through active social and financial entrepreneurship and increased employability;
Created network of schools using the integrated social and financial education program on the international level;
Shared and documented good practice and experiences.
Training of trainers – Activity C1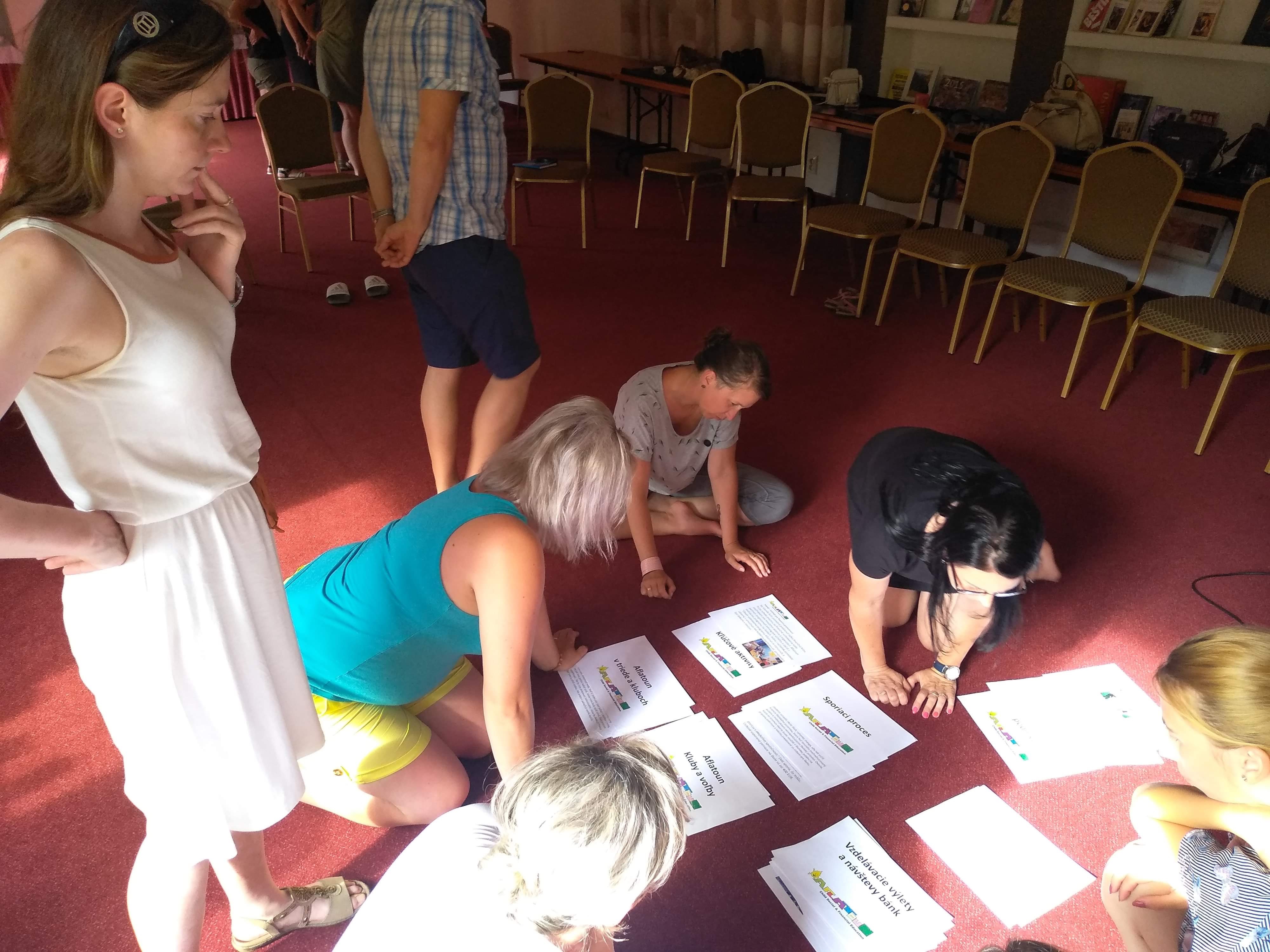 Project: Social and Financial Education for Engagement, Entrepreneurship and Employment – SaFE for Triple E – Training of trainers:
Data about the training:
Number of the participants: 13
Venue: Hotel Strachanovka, Liptovsky Jan, Slovakia
Time of the training: June 29, 2019 – July 3, 2019
The programme of the delivered training was created to meet the needs of both professionals and paraprofessionals working with children and pupils. It comprised of all modules necessary for a good understanding of the concept of social and financial education, educational themes, traditional and child-centered teaching, programme Aflatoun (Aflatot, Aflateen) and methods used when working with Aflatoun methodology. We delivered a very practical training full of learning experiences and practical and very interactive workshops focused on each module of the Aflatoun Manual. The group was a good mixture of professionals and paraprofessionals which was beneficial for sharing experience and brought different views and approaches to social and financial education. They were very active and passionate about the topic and appreciated the programme of the training.
---
Kit@ – Media competency training for professionals in day-care centers and comparable institutions in rural areas of Europe

Objectives of the project:
The aim of the project is the creation of innovative solutions for the development of media pedagogical competences using ICT and the acquisition of digital skills of the professionals in child day care centers and comparable institutions, especially in rural regions. The teaching of knowledge aims at the application of innovative methods and pedagogical methods for the education of children using digital media. Substantial synergies can be used through international cooperation. Different levels, approaches and approaches to solutions in the partner countries can be transferred. This is especially possible by the fact that the IT platforms are essentially the same in the countries and lead to cross-national sustainable innovations.
Rural areas are at a disadvantage as an educational location, especially in the ICT sector, because equipment, Specialists are missing. ICT itself is important for the design and quality of life of rural areas; the disengagement of regions and the exclusion of social groups are threatening. All rural European regions face similar problems.
Target groups:
• Educators in children's day care centers and similar institutions
• professional actors or institutions active in the field of early childhood education
• Children and parents as indirect target groups
---
GSA – Good Start for All: Development of Inclusive Education Methods for Pre-school Children from Socially Disadvantaged or Culturally Different Environments
Programme: Erasmus+
Key Action: Cooperation for innovation and the exchange of good practices
Action: Strategic Partnership
Project Duration: 1. 9. 2017 – 31. 8. 2020
Project is co-funded by the Erasmus+ Programme of the European Union, 2017-1-CZ01-KA201-035409.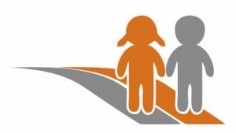 This projtect will go into detail on the possibilities of cooperation among informal education settings with the pre-schools aiming to support the inclusion of children from socially disadvantaged or culturally different environments. The informal education settings include foundations, NGOs, daycare centers and children centers. During the course of previous project there was discovered a weak cooperation between pre-schools and informal educators especially in helping to reach parents and children to overcome the cultural, social and emotional barriers when entering and sustaining in the formal educational settings.

The goal of the GSA project would be to draw out innovative recommendations based on the best practices in partner countries on how they work with families and children from socioeconomically disadvantaged or culturally different environments such as migrant and Roma families, in order to prepare children to enter formal education and sustain. Accordingly the project is intended to prevent early school leaving (ESL) through engaging with socially and economically disadvantaged children at an early stage. Together with our partner organizations we will identify the main activities, methods, programs and strategies that are currently used to support pre-school children and their families at risk. Furthermore we will explore how they could be transferred to other countries. In order to facilitate effective exchange of best practices, a platform will be created, which will work on the selection of the methods, which proved to be successful and compile an innovative inclusive practices to be used by the informal and formal education settings across the EU. The identification and exchange of best practices will equip organizations and professionals with new methodologies and a larger toolbox to tackle issues surrounding socially disadvantaged children. A strengthened cooperation and coordination among stakeholders such as families, pre-schools and informal educators is paramount to achieve a higher quality ECEC and to identify and support vulnerable cases at an early stage.
The main activities of the project include elaboration of report on the national policies of inclusive ECEC in partner countries, description of inclusive strategies, methods and practices applied in informal pre-school settings in partner countries, preparing of training program and organization of three Joint Staff Trainings and development of Good Practice Guide to Inclusive ECEC based also on evaluations gathered during piloting phase in non formal settings (at least 3 per country). At the end of the project the final conference will be organized in Prague to bring together 100 proffesionals, experts, researchers and actors working in the field of project domain also in other EU Member States than those involved in partnership.
The project is carried out in partnership with:
---